SCNF TER "Cheetah"
Two 40 seconds commercials for the french trains TER, at Nexus Productions in London. A quite big crew on these two,
sorry for not having all the names in the credits but I don't remember everyone. Please remind me!

What I did
My part in these commercials was allround 3d artist wich ment I was doing alot of everything here and there.
I did lighting on some shots, some rigging, some minor cloth stuff and animated bits and pieces here and there.
Except for this beeing a really cool project to be part of I remember that summer of 2005 as extremely hot and at the top floor at Nexus it was probably closer to 40 degrees Celcius!

Credits
Agency: TBWA\Paris
Production: Nexus Productions
Directors: Smith & Foulkes
Production Manager: Luke Youngman
Studio Manager: Theano Kazagali
Head of 3d: Darren Price
TD Lead: Rob Andrews
Rigging: Brad Noble
3d artists/animators: Reece Millidge, Michael Greenwood, Alberto Lara, Anders Freij
+ more people! Let me know
Comp: Eddy Herringson

"Waiting Beauty"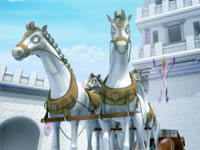 "Cheetah"